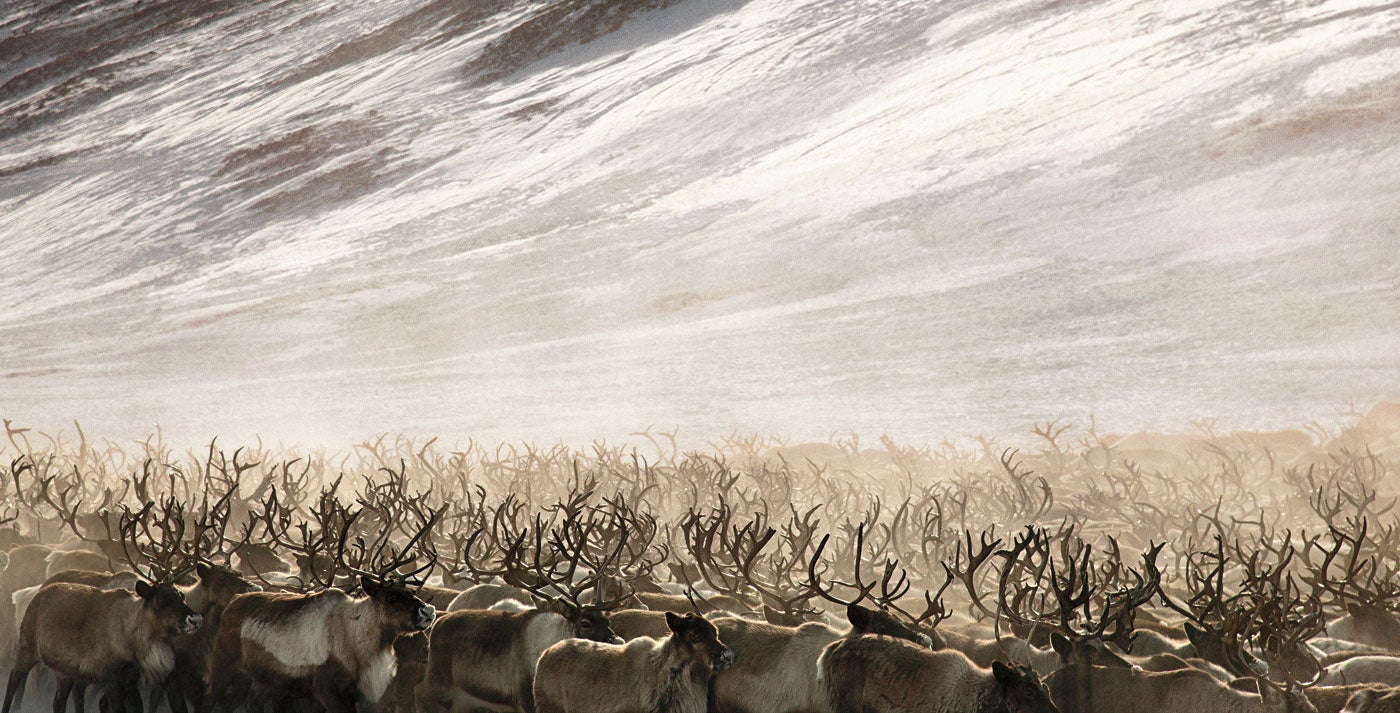 Travel
Into the Wild
Finland's ethereal Kakslauttanen Arctic Resort provides the perfect backdrop for the Fall 2015 Ralph Lauren Collection
Dimly lit glass domes rise above puffy banks of pure white snow nestled between tall pine trees. Just beyond, peaceful log cabins sit with stone fireplaces flickering inside. This is the Kakslauttanen Arctic Resort, a lush winter wonderland in the middle of nowhere. Finding the middle of nowhere—actually the Finnish region of Lapland, 250 kilometers from the Arctic Circle—is surprisingly simple. Kakslauttanen is less than 10 minutes from the country's largest national park, Urho Kekkonen, and 30 minutes from Ivalo Airport, making it an accessible idyll for a magical winter getaway—and for the Fall 2015 Ralph Lauren Collection photo shoot.
Shearling, suede and cashmere are cornerstones of Ralph Lauren's latest Collection, offering a rich and rustic palette that conjures a luxurious yet pastoral scene: one where husky- and reindeer-led sleds are common, fresh mountain water flows in the streams and the untouched snow reaches your thighs in winter. The family-owned, otherworldly Kakslauttanen provided such a setting, and photographer Jimmy Nelson , known for his stunning portraits of indigenous cultures, was the ultimate lensman to capture it all.
The resort itself is the result of a happy accident. In the summer of 1973, Jussi Eiramo went on a fishing trip to Finland's northernmost village of Utsjoki. On his way home, he ran out of fuel and had to set up camp for the night in the wilderness. Eiramo instantly felt that he had found his true home. Soon, he opened Kakslauttanen near his original campsite with a 30-square-meter café and eight small log cabins serving guests on their way farther north.
The property has grown bit by bit ever since. In 1986, the first on-site restaurant opened, which was accompanied by bigger log cabins. More recently, Eiramo and his family have introduced Santa's Home, a quaint red cabin where Father Christmas awaits little visitors. The family also has a long history of working closely with the indigenous Sami people, collaborating on guest activities such as reindeer safaris and traditional music performances, as well as building sites together at the resort.

The exceptional setting mixed seamlessly with the nomadic romance and textural world that define the Fall 2015 Collection. The Ralph Lauren team traversed the grounds, taking full advantage of 15 hours of beautiful, almost blinding sun each day, along with mountaintop panoramas offering views of Russia on a clear day. They shot while riding on the back of a dog sled, inside traditional teepees and in a stark and graphic part of the woods where the snow was so high that models needed to pose on round cuts of wood. Each of the looks stood out against the simplicity of fresh snow and the vastness of the landscape.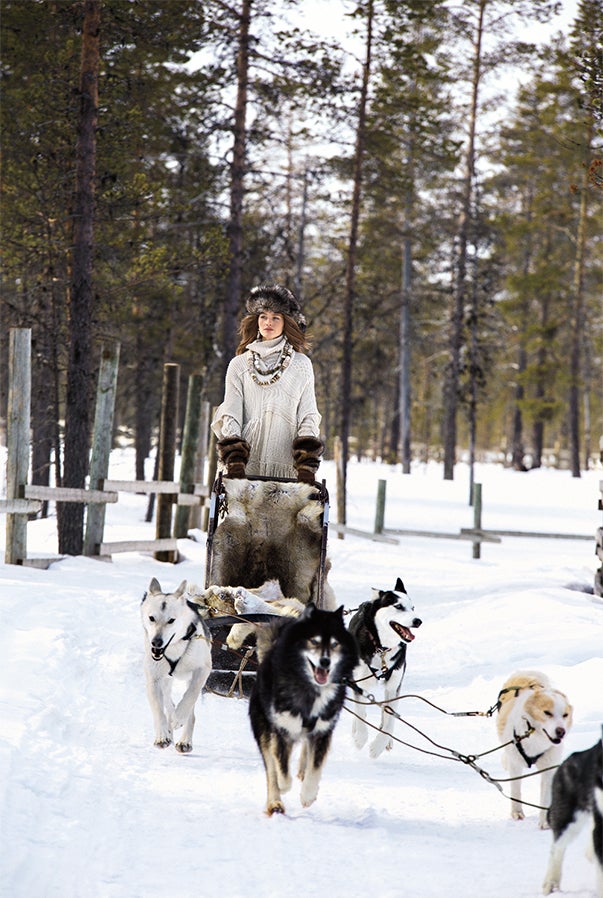 This season, my heroine lives in a winter wonderland,
a place of strength and dimension.
— Ralph Lauren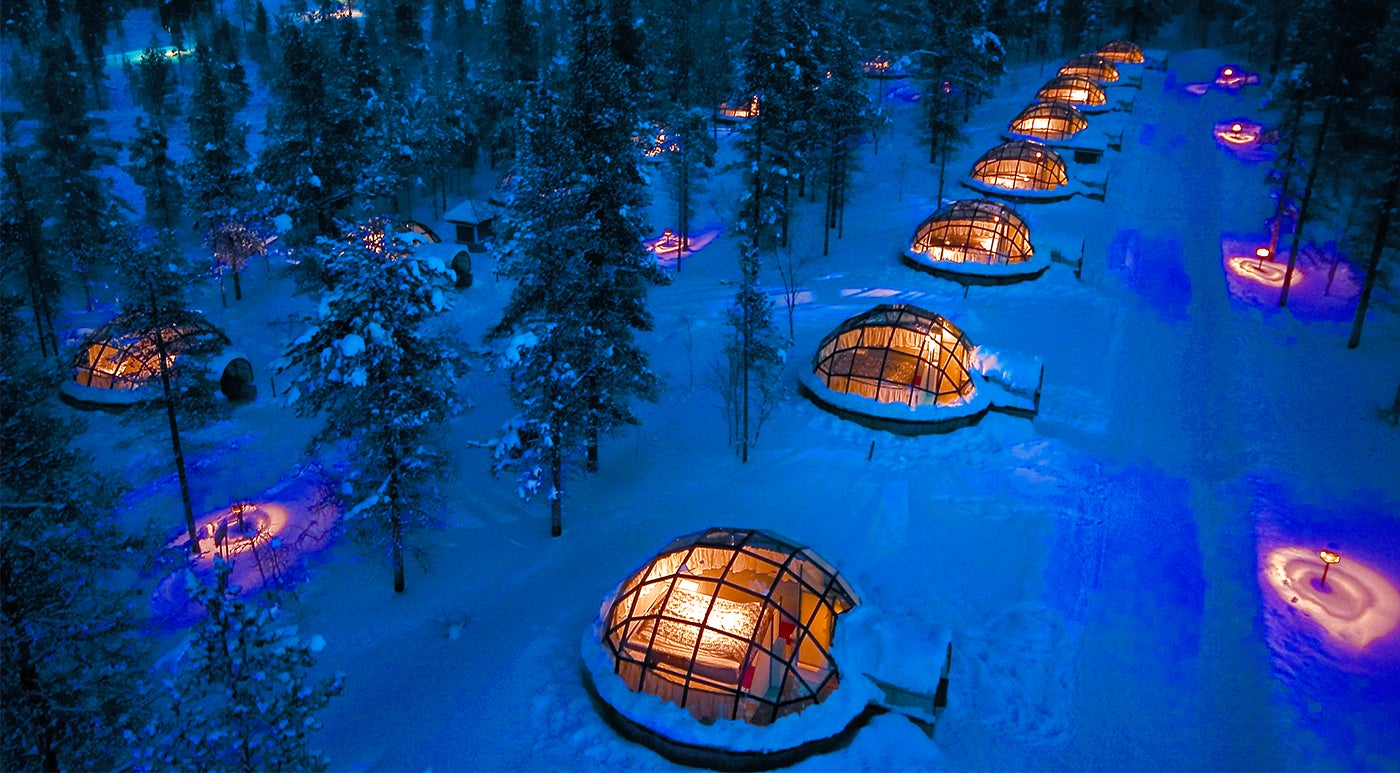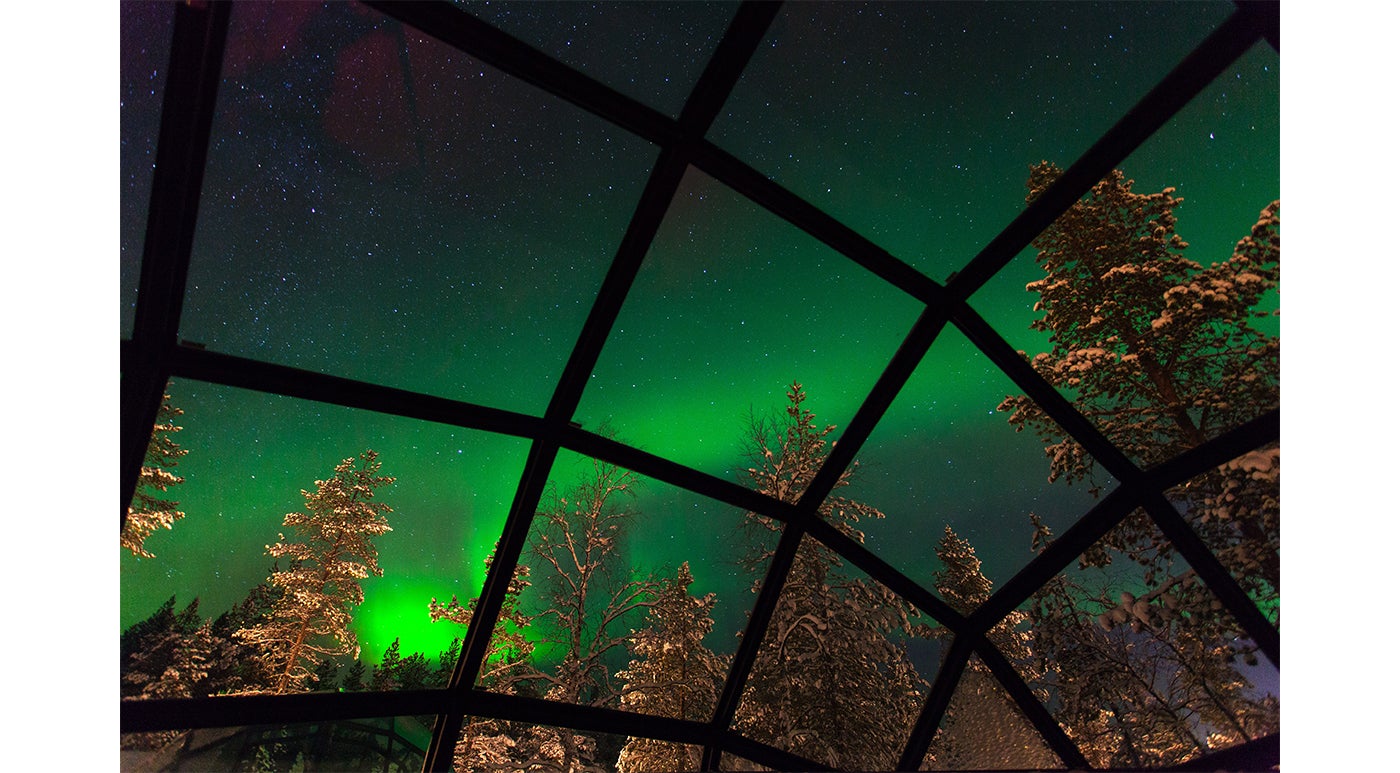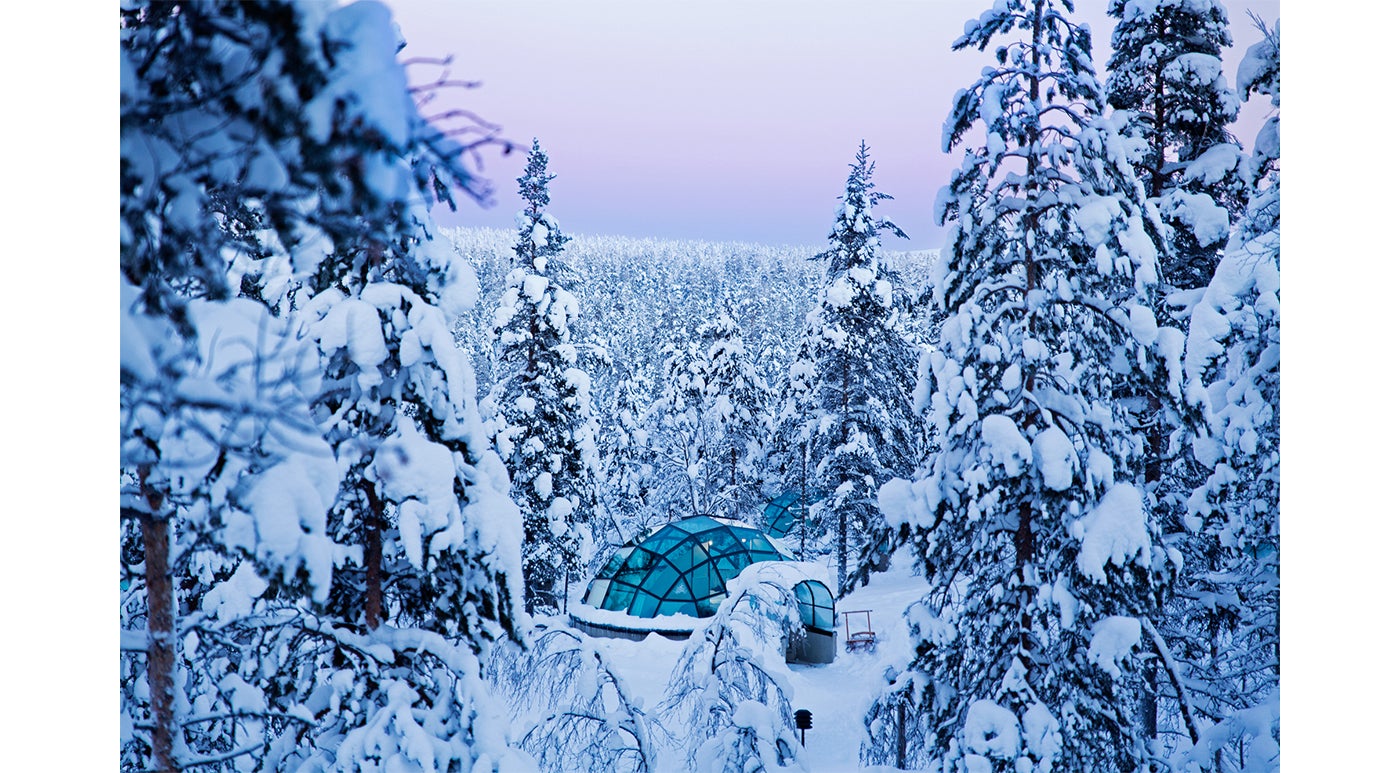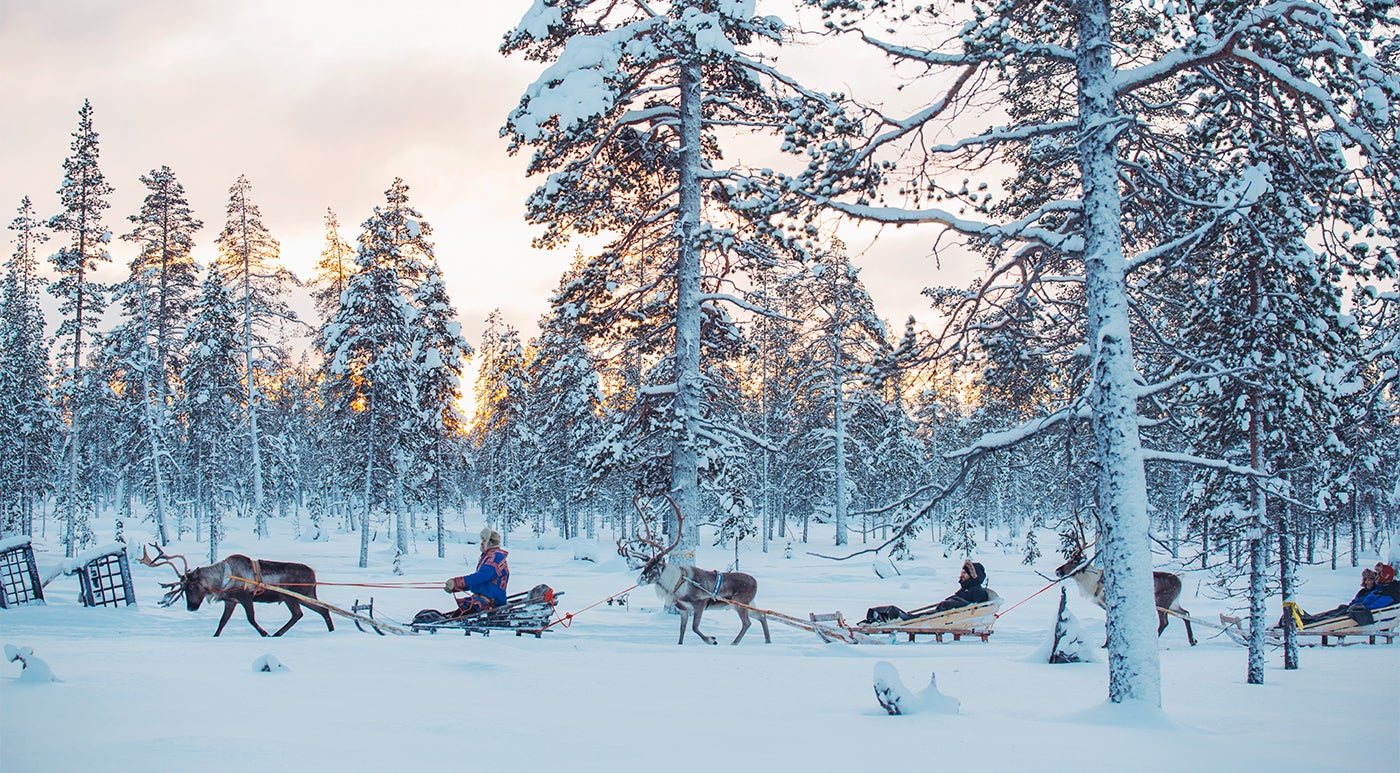 Kakslauttanen has become one of Finland's best-known (and bucket list–worthy) tourist destinations. It is relatively easy to access year-round and is family-friendly, yet it's incomparable to almost anywhere else one might think to travel. In the summer, when the sun does not set from mid-May to early August, activities include horse-led safaris, nature hikes, river cruises in Lemmenjoki National Park, foraging for mushrooms and berries and panning for gold. In winter, the most iconic sight is the Aurora Borealis, but guests can also sled with reindeer and huskies, ride sleighs through the snow, try ice fishing and take a daylong trip on an icebreaker cruise ship. Couples with an adventurous spirit can get married in the ice chapel or spend their honeymoon cozying up in a private log cabin.
With Kakslauttanen, the Eiramo family has taken what was wild and unspoiled and made it reachable for travelers from all walks of life, at the same time maintaining—and celebrating—the magic of the region. It's an unforgettable place, both dreamy and authentic.
Nicole Campoy Jackson is the Women's style editor at Ralph Lauren. She has written for Fodor's, Eater LA, Mr and Mrs Smith, Wantful and The Huffington Post, among others. She lives in Brooklyn with her husband and her dog.
PHOTOGRAPH BY JIMMY NELSON; COURTESY OF RALPH LAUREN CORPORATION 
SLIDESHOW PHOTOGRAPH COURTESY OF KAKSLAUTTANEN ARCTIC RESORT
SLIDESHOW PHOTOGRAPH BY VALTTERI HIRVONEN; COURTESY OF KAKSLAUTTANEN ARCTIC RESORT